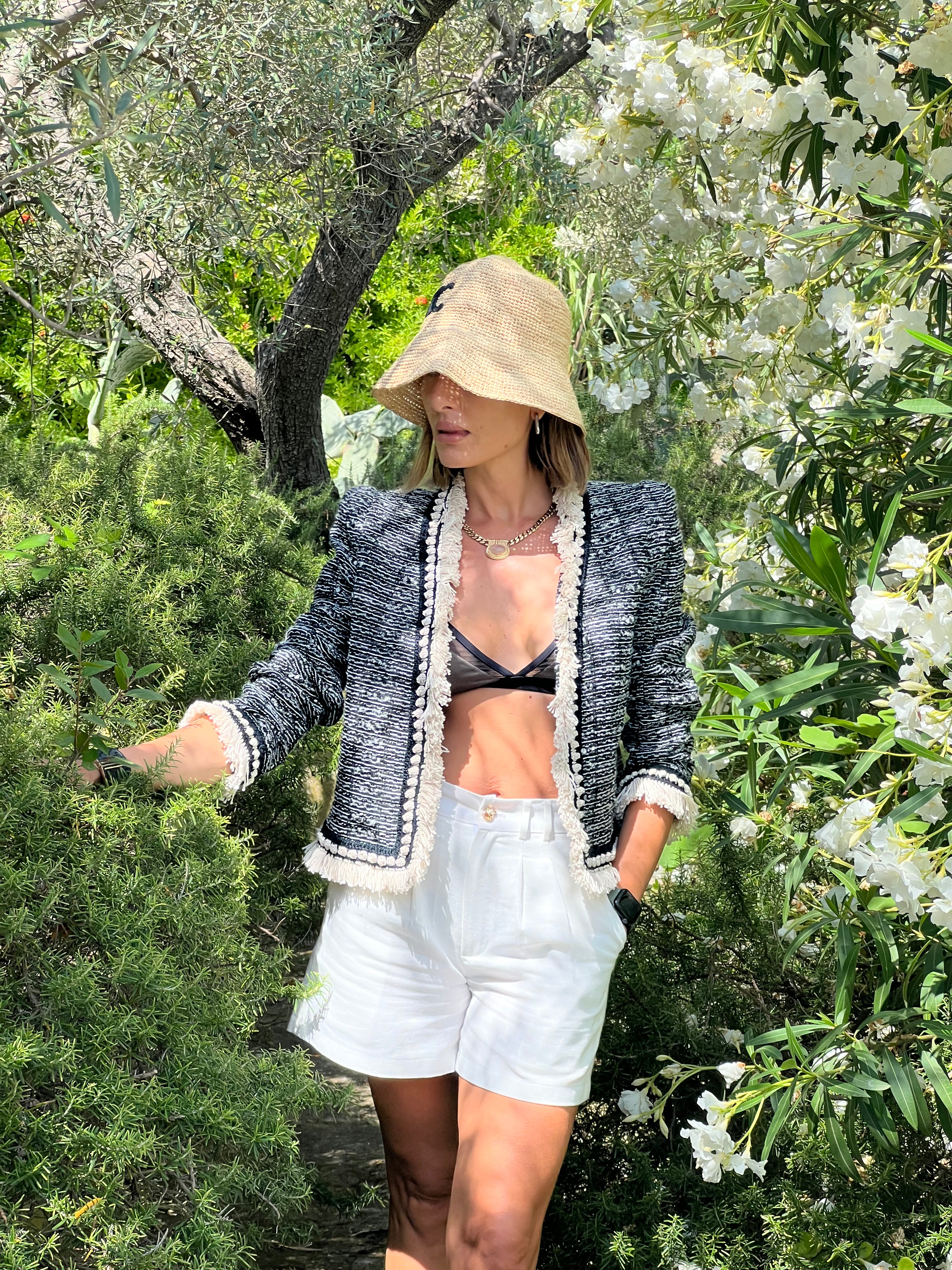 GINEVRA BLAZER- BLACK & WHITE TWEED
Sale price

$695.00
Regular price
(/)
---
Introducing our exquisite Collarless Tweed Blazer, a true embodiment of elegance and sophistication. This meticulously crafted piece features a cropped silhouette and showcases the perfect blend of classic design and modern accents.
Designed with meticulous attention to detail, this collarless blazer exudes an air of understated luxury. The absence of a traditional collar lends a sleek and contemporary touch, allowing the focus to be on the beautiful craftsmanship and intricate detailing.
Crafted from a premium cotton blend tweed fabric sourced from Italy, this blazer boasts a rich texture and exceptional quality. The tweed fabric not only provides a timeless charm but also offers durability and comfort, ensuring that this blazer will be a long-lasting addition to your wardrobe.
One of the standout features of this blazer is the contrast hand-embroidered piping fringe along the edges. This exquisite detail adds a touch of opulence and showcases the meticulous craftsmanship involved in creating this piece. It creates a stunning visual contrast against the tweed fabric, elevating the overall design to new heights.
This versatile blazer effortlessly transitions from day to night, making it a perfect choice for various occasions. Whether you're attending a business meeting, a social gathering, or simply want to elevate your everyday style, this collarless tweed blazer is sure to make a lasting impression.
At our online shop, we prioritize quality and craftsmanship. Each blazer is meticulously crafted by skilled artisans who are passionate about creating exceptional garments. We believe in the power of attention to detail and strive to ensure that every stitch is flawless, resulting in a blazer that embodies excellence.
Indulge in the elegance and sophistication of our Collarless Tweed Blazer and experience the luxury of Italian cotton blend tweed fabric. Add this timeless piece to your wardrobe and let it become a staple that exudes confidence and style. Shop now and embrace the allure of impeccable craftsmanship and refined design.
Hip length.


Belted
Content: 69% VISCOSE, 29% WOOL, 2% ELASTINE
Lining: Viscose

MADE IN ITALY

Dry Clean Only

Fit: Model is wearing size 4
VALENTINA SHAH's mission is to bring back the old-world Italian luxury and craftsmanship and translate it into modern wardrobe. Valentina Shah grew up in Rome and began jet-setting at a very young age. A noble upbringing exposed Shah to many iconic socialites and international stars early on, sparking an interest in fashion and developing her innate sense of style. VALENTINA SHAH focuses on detail in the most modern form while maintaining a classic appeal. The collection embodies feminine sophistication, confidence, and fearlessness while staying true to the needs of the modern woman. Produced with pollution-free energy and all skins and furs are 100% vegan & cruelty-free.
GINEVRA BLAZER- BLACK & WHITE TWEED
Sale price

$695.00
Regular price
Choose options